Handling Unstructured Data with Extract
PromptLoop is a platform offering AI models designed to support all forms of market research and text analysis. Our models are available within Excel and Google Sheets and allow teams with no technical background to use breakthrough AI including custom-trained models and pipelines.
Extracting meaningful information from unstructured data can be a hassle for market research consultants and teams who often struggle with enormous disjointed datasets. However, the inherent value of these datasets is undeniable. Consequently, the need to comprehend numerous potential customers and companies is paramount.
PromptLoop AI models significantly expedite the analysis process. Our extract function is able to extract and summarize the information you need from text blocks and unstructured data. Our browsing function can then use this information to look up whatever insights you need, all in the same spreadsheet where your data lives. From text surveys to video transcriptions and interview notes, these AI models are being utilized by market research teams of all sizes, effectively transforming unstructured data into useful insights.
Extracting Company Information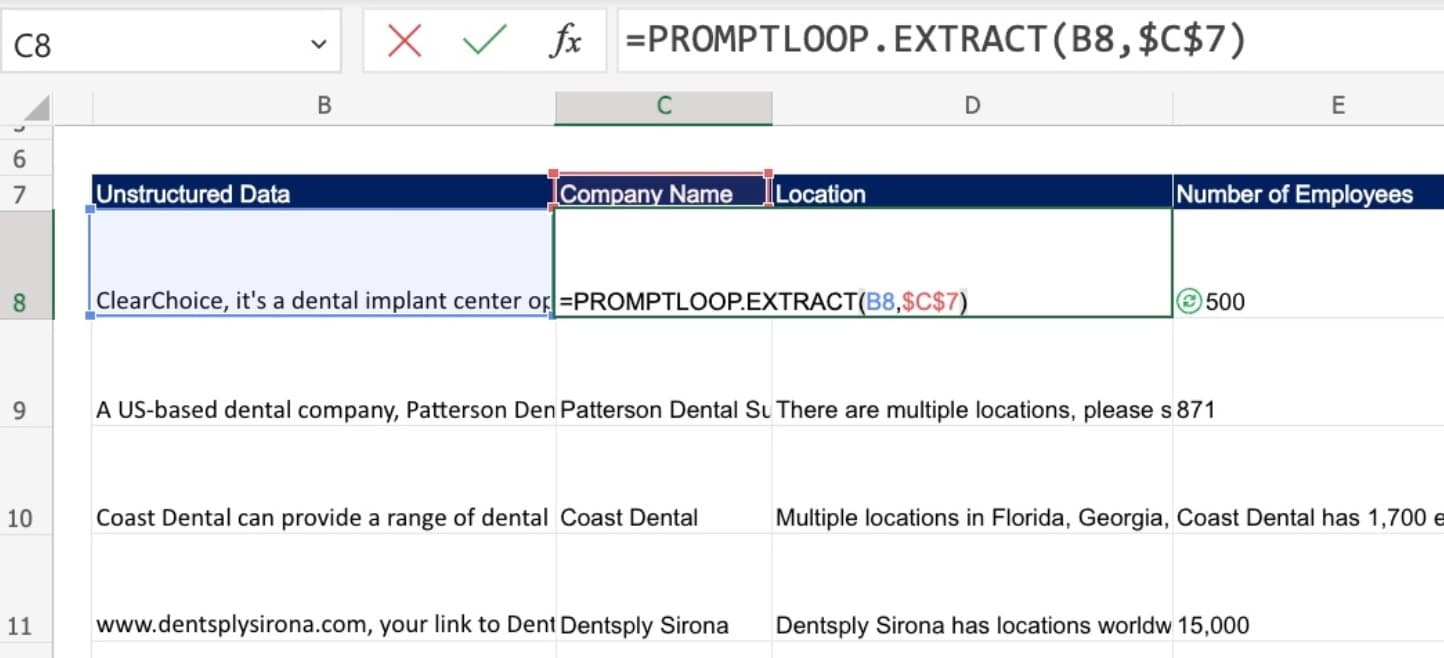 In this example, we take a list of unstructured data and use the PromptLoop Extract function to extract the company names. We then use these company names as inputs in the PromptLoop Browsing function to look up whatever information we want to know on these companies.
In this example we chose location, business description and number of employees, but you can edit the headers to whatever insights your team needs, and get the information in seconds across entire data sets.
Quality Assurance
The veracity of data is crucial in research, specifically high-volume investigations, as it supports the extraction of valuable insights and responses to business inquiries. Recognizing this need for reliable data, PromptLoop has ensured an option to validate data sources.
PromptLoop allows users to return the link of the data sources by adding a 1 to the function call. If information cannot be found the models will report Not Found and will never make up fake information. This method provides transparency in facilitating data validity checks, supporting reliability in data-driven decision-making processes.

You can get started with this Excel Extract Company Information Template here and also find more templates and use cases from current customers.
If you are interested in learning more or have questions about how your team can benefit, get in touch here!