Response Analysis and Entity tagging for consumer research
PromptLoop is a platform offering AI models designed to support all forms of market research and text analysis. Our models are available within Excel and Google Sheets and allow teams with no technical background to use breakthrough AI including custom-trained models and pipelines.
Teams that support the world's largest and most responsive brands deal with tremendous amounts of data. The cost of this research and the value that can be gleaned from it creates a big demand for the ability to understand what thousands of different potential customers are saying about a product or experience.
PromptLoop AI models can drastically speed up this analysis process, keeping humans in the loop to validate the quality of insights, and without the need to adopt a new software tool. Research teams of all sizes are using AI models to tag responses, whether they are text surveys, video transcriptions, or interview notes.
Entity Tagging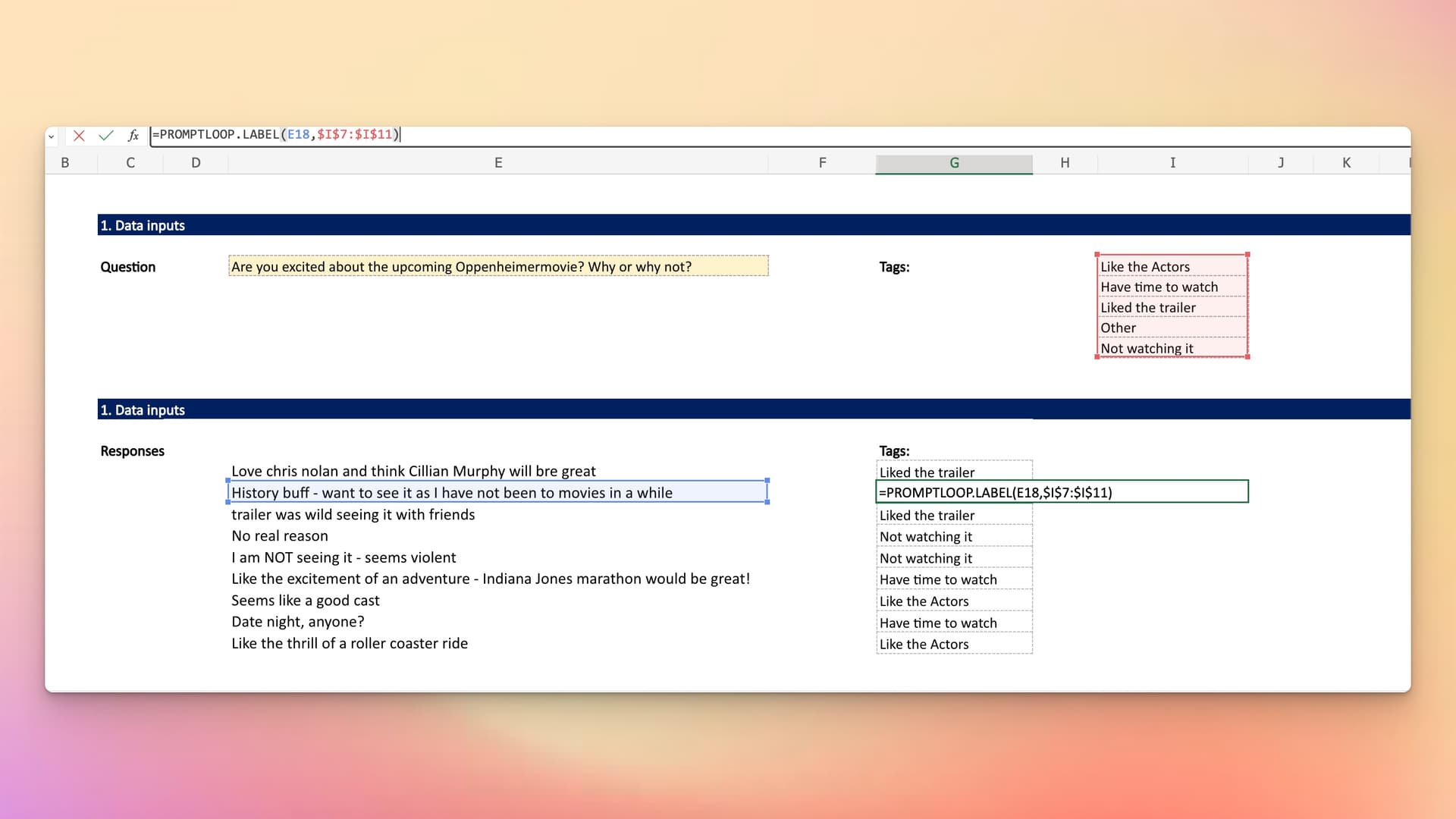 One of the fastest ways to extract insights from a dataset of text is entity tagging. Many firms still rely on human review of data for entity tagging, especially when answers are gathered from interview notes or conferencing transcriptions.
Promptloop offers a way to quickly and easily tag responses with the Label function. This model takes the semantic meaning of each response and matches it to the most similar description. Descriptions can be one word tags or long product specs or copy.
You can change and re-run the tagging dozens of times until you get the insights you are looking for and then graph the results.
Quality Assurance
With high-volume research, validating the quality of responses allows teams to focus on respondents and answers that will be valuable to the business questions being answered.
This process is challenging and often involves manually reading through thousands of responses. For teams doing this frequently, Promptloop offers a solution to take a completed set of response validations and turn it into a custom model.
Our custom models are available to enterprise customers and offer a simple way to access custom state-of-the-art machine learning with a simple upload and auto-train engine.
If you are interested in learning more or have questions about how your team can benefit, get in touch here!