Custom Models
PromptLoop gives you immediate access to AI tools inside your spreadsheet models.
Now, you can go one step further and train and deploy your company's own custom AI models inside spreadsheets to carry out industry specific or sensitivity adjusted tasks that our primary functions can't handle.
For example, we can train a model on survey data to output exactly what insights a client is looking for, whether that's sentiment, labels or a combination of a number of different factors. We can then work with your team to fine tune this model based on your needs.
Check the Main Functions First
PromptLoop comes with built-in capability to perform most tasks, including labeling, well. We advise teams to first check the guides on how to use PromptLoop and then get in touch if there are specific tasks and workflows you want to deploy.
Reasons you might want to train a custom PromptLoop Model
increased accuracy and efficiency
more specific labeling
industry-specific analysis capabilities
accelerated performance on large data sets
greater insights and customization on all data
extensive account management and support
If you or your team is interested in getting started with training a custom model you can:
Email: help@promptloop.com or
Reserve a session HERE ✅ to get started!
The first step in training your model is to gather a set of data that provides input and output examples to train on.
It is important to select representative data and provide at least 500 rows of relevant data. This could be any relationship that you want guidance on such as a custom labeling or quantitative scoring.
Your data upload should follow the guidance provided on the upload module and be in CSV format.
When you upload a dataset your model training process is triggered but must pass through a processing step.
Your PromptLoop plan will have to allow for custom models - see account settings or email us at help@promptloop.com - and your data must be properly formatted.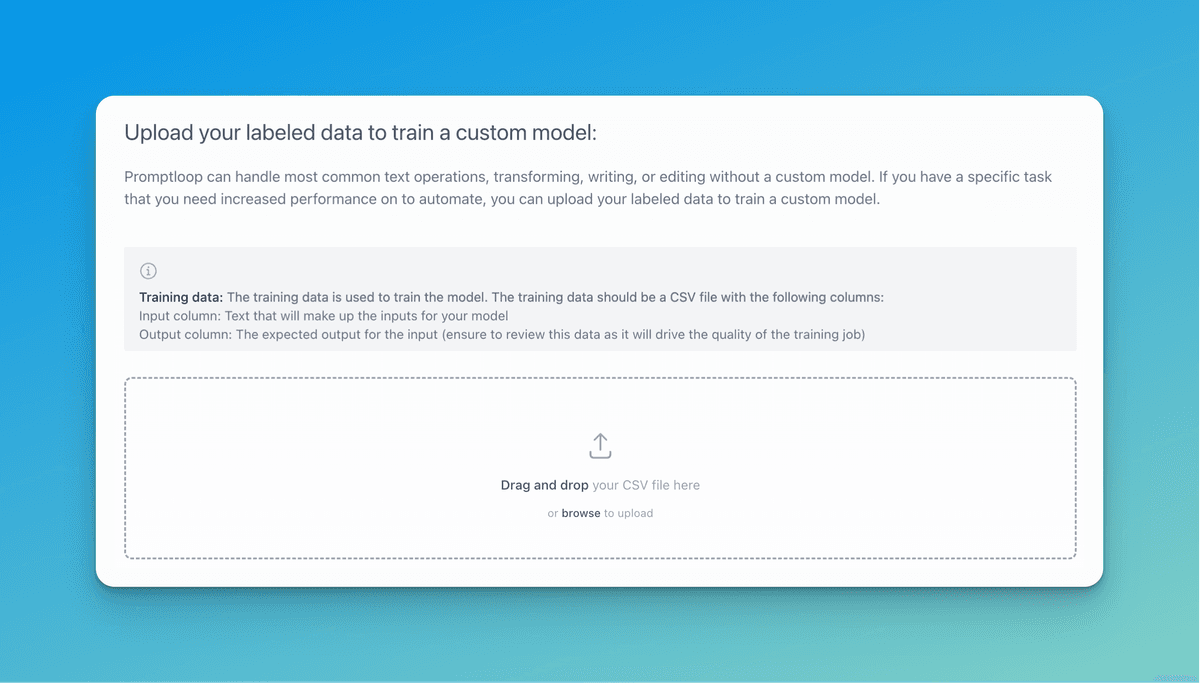 Training and deploying your model will be completed within 24 hours of validating your upload and passing the checks above.
You will be notified when the training is completed and your model code(s) will be available in the custom model account portal for you to access immediately.
You can allow any account attached to your organization to gain access to your custom model as well.
Your custom model can be called with the following syntax:
Excel: PromptLoop.Custom(code, target)

Models can be deleted or deactivated at any time.
Pricing for custom models is independent of normal use and depends on your plan. See pricing for details.